Sometimes it's good to be lucky.
A friend and I arrived at Rim Village. It was a sunny winter day, the snow looked perfect, and we prepared to head out cross country skiing.
Ooops, he'd forgotten to pack his ski boots. What now?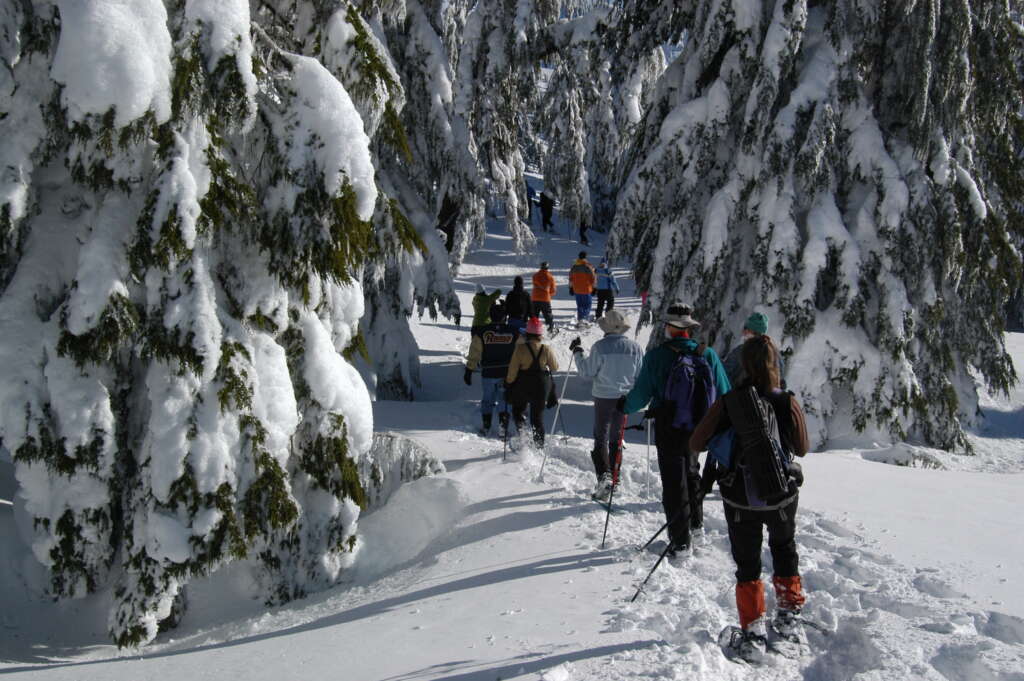 We noticed some park rangers talking with a group of people. It turned out the rangers were taking them on an interpretative snowshoe walk. When we asked if we could join, they told us to strap their extra snowshoes. For the next two hours we stomped through nearby forests and meadows. The rangers provided an avalanche of winter-specific scintillating tidbits, things like the park's average and record snowfalls, the lake's geology and legends, critters like pine martens and voles. We learned how flexible mountain hemlocks can withstand being semi-buried under walls of snow, the symbiotic relationship between Whitebark pine trees and Clark's nutcrackers, and more.
Because the weather cooperated, the walk ended at a lake overlook near the Crater Lake Lodge.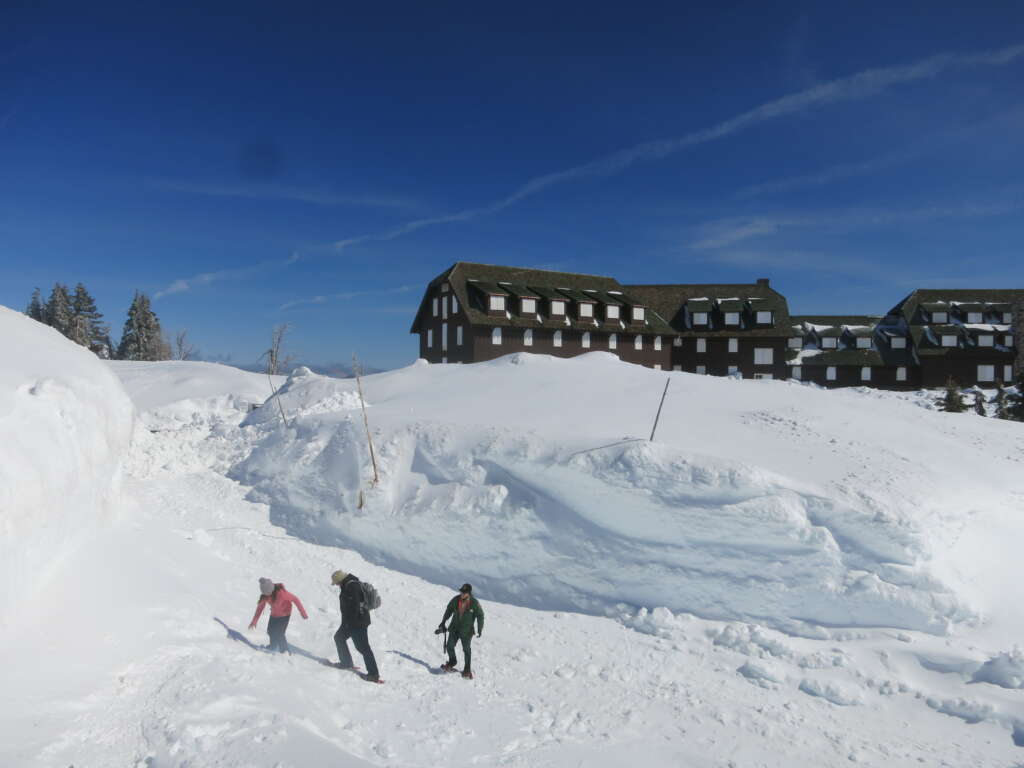 We were lucky to hook up with the group. But it's best to create your own luck. That's done by signing up for the snowshoe walk in advance, which can be done by calling the park visitor center at 541-695-3100. The 2022-2023 season, which began last November, is winding down but guided walks are available Saturdays and Sunday through April 30 starting at 1 p.m. No previous snowshoeing experience is required, and the park provides the snowshoes free of charge. The walks last about two hours and cover 1 to 2 miles off-trail, mostly moderate with some steep terrain in the Rim Village area. It's recommended that participants, who must be 8 years old or older, be in good physical health and come prepared with their own water, warm clothing, and sturdy footwear. The walks happen rain or shine, although they are moved to the park headquarters area when the road to Rim Village is closed. Rental snowshoes are also available at Crater Lake Hospitality at the Rim Village Café and Gift Shop.
What are some of the factoids I've learned on several snowshoe walks? In an average winter the park receives 41 feet of snow, which sounds like – and is – a lot of snow, but well below figures from the 1930s when the seasonal average was 51 feet.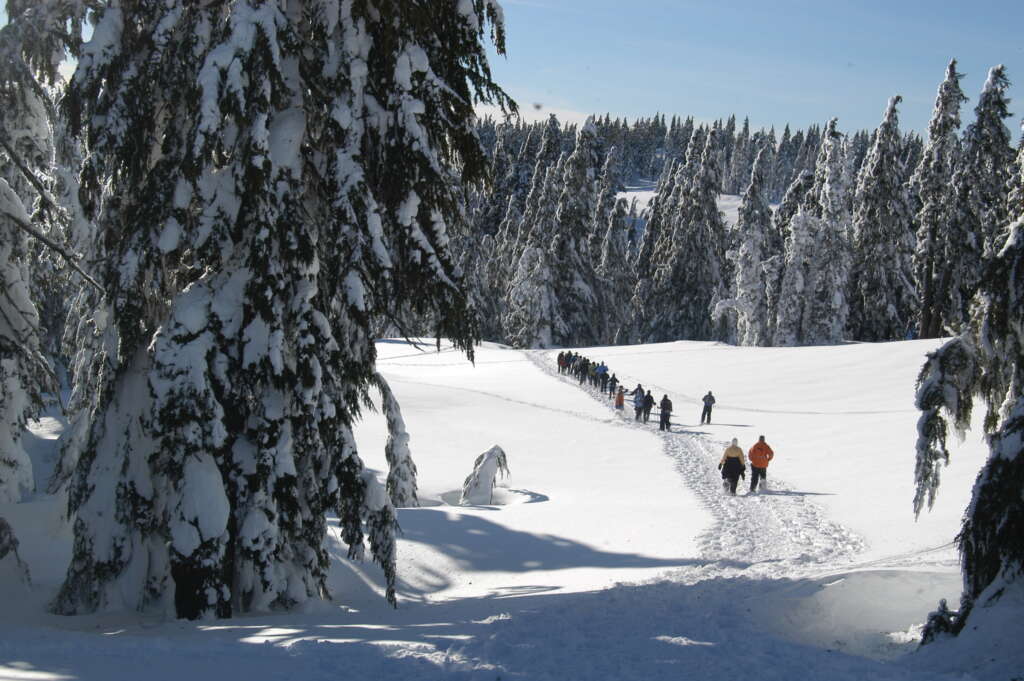 During frequent breaks – necessary because Rim Village is at a breathtaking elevation of about 7,100 feet above sea level – we gleaned information about mountain hemlocks, Shasta red fir and Crater Lake's keystone species, the Whitebark pine. Whitebark, we learned, have a symbiotic relationship with Clark's nutcrackers, birds that collect and crack open the seeds that don't open on their own. It's estimated each Nutcracker carries up to 100,000 seeds a season to caches, often several miles away from where they're collected. During the flights to those caches – carrying up to 150 at a time – some of the peanut-sized seeds are dropped while others aren't retrieved and grow into new trees. Unfortunately, Whitebark populations are expected to decline by 95 percent in future years because of blister rust and mountain pine beetles, which infect and kill them. To offset the decline, seeds from the non-afflicted pines are being germinated and planted.
At a stop with expansive views of Garfield Peak, a popular summer hiking destination, the rangers discussed pikas, sometimes called rock rabbits, which are found in higher elevations of the park. Although global warming is threatening pikas – they die if temperatures remain at or above 78 degrees for several consecutive days – we learned that studies indicate the park population is stable. More curiously, we were told researchers have discovered pikas previously lived on Wizard Island and, according to the rangers, "no one knows how they got there."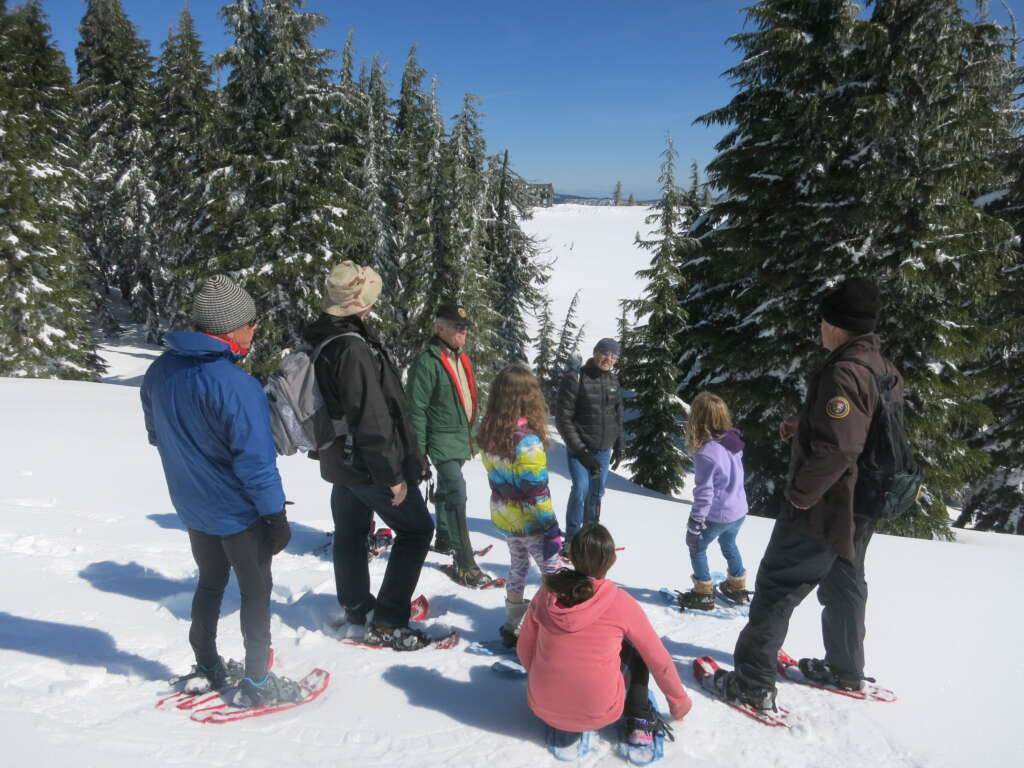 We found no pika tracks, but there were prints from voles and pine marten. Voles, we learned, survive winters by nesting in snowy sub-surface tunnels and surviving on roots and other vegetation, including tree bark. Martens search for breathing holes and dig into their snowy labyrinths to catch and eat the rodents. We did see sets of tracks made, appropriately, by snowshoe hares.
Many people snowshoe on their own, often the 2.2-miles out-and-back to Discovery Point or beyond. Other suggested routes are outlined in the Crater Lake newspaper, Reflections. Snowshoers are asked to not walk in ski tracks, which creates problems for cross country skiers.
While I've been on several ranger-led snowshoe walks, one memory burns the brightest. It was near the end of the hike, at a perch overlooking the lake where other visitors had built a snowman. The ranger, with a sudden big grin, said, "That reminds me of something I forgot to ask. My question is, if snowmen could walk, what would they wear?"
And, after a pause, with a broadening smile he explained, "Snowshoes!"
Written by Lee Juillerat in partnership with Crater Lake National Park Trust.